Analogue Pocket Magnetic Case
Analogue Pocket Magnetic Case
Analogue Pocket Magnetic Case
OPTIONAL: Carabiner ($3 sold separately)
Available in leather and non-leather options
Chocolate Leather
Black Leather
Blue Leather
White Leather
Waxed Canvas with Chocolate Leather
All Waxed Canvas
All Ballistic Nylon
All our products are crafted locally in our workshop by the most skilled sewing team in San Francisco.
Material:
Black ballistic nylon
Full-grain leather
Waxed canvas
More details here
Dimensions & Weight:
7" (l) x 0.5" (w) x 5" (h), x 4.5 oz.


17.78 (l) x 1.27 (w) x 12.7 (h) cm, 130 gm
FEATURES
Lightweight, closed-cell foam protects the Analogue Pocket from damage.
Strong rare earth magnetic closure quietly secures the case shut and allows in-case charging.
Ultra-plush liner cushions the Analogue Pocket and provides added protection.
Reinforced interior seams add additional protective barrier around Analogue Pocket.
Cushioned Interior pockets stow games and charging cord.
Two loops for attaching carabiners or wrist loop (optional).
OPTIONAL / SOLD SEPARATELY
Not really worth the price but solid in quality.
Perfect Case
This is a perfect case for the Analogue Pocket. I am so impressed with the quality of it. It fits 4 games easily and the magnetic closure work really well.
Love the quality, exceptional materials.
Bought this for my new glow in the dark Pocket. What I didn't realize is how much I love the case almost more than the Pocket itself!
The materials are top notch, the waxed canvas feels fantastic and the leather looks (and smells) great too!
Long Lasting and Looking Good Doing It
As always, I love the Waterfield Designs cases. I picked up an Analogue Pocket and with an impressive screen on a portable device, the last thing I wanted was to scratch the crud out of it. I knew immediately I wanted a Waterfield Design case because I have them for my Nintendo Switch. The quality and features are there.
The magnetic opening is great because it's easy to slip my Analogue Pocket in there without the (necessary/unnecessary) concern of scratching the screen on zipper teeth that would normally be on cases. It's a snug fit and I don't have the Pocket "swimming around". The interior is soft micro fiber and so I never worry about scratches. It really is a simple, elegant case. Nothing like these cheap, kid-looking ones you get at GameStop.
There are two interior pockets to hold game cartridges. That's nice to have around if I'm packing more and don't want to run my roms on it. Lastly, my favorite feature is two things-- it's a case that will last a long time and it will look good doing it. I went with the leather and it ages so well. I'm a fan of it and I found that I bring my Analogue Pocket everywhere with me now.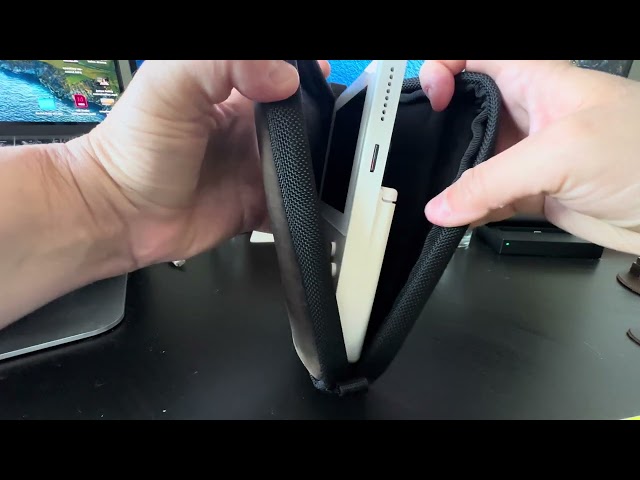 Magnetic AP Case
It's a nice case, but for the price it is WAY TOO SMALL. It barely fits the AP, alone, without pressing it into the corner of the case There's no way to get a charger and carts in there without damaging it. I would love to have the increase the volume by 10% and rerelease it.
SIZE GUIDE
The Analogue Pocket Magnetic Case is designed for the dimensions of the Analogue Pocket and comes in one size. The interior compartment holds the handheld gaming console and the interior pockets hold the Analogue Pocket's charging cable, as well as a few games.